CHEZ DÉDÉ SUITE 2116
André "Dédé" Fortin was born on November 17, 1962 in Saint-Thomas- Didyme in the Lac-Saint-Jean region, and left this world before his time on May 8, 2000 in Montreal. He came to Montreal in the early 1980s, settling in an apartment at 2116 Saint Laurent Blvd., which would become the centre of his artistic creativity. Upon arrival he studied cinema at the Cégep du Vieux Montréal and at the Université de Montréal, where he quickly developed talents as a singer-songwriter, multi-instrumentalist, filmmaker and actor. He later founded and led the renowned musical group Les Colocs, an integral part of his work.
Les Colocs soared to popularity among Quebecers, owing to their dynamism and festive nature. André Fortin's tremendous talent propelled him to become a leading figure in the 1990s Quebec music scene, and he remains a major influence for Quebec musicians into the 2000s.
Only the first Colocs album was produced with help from director Robbie Finkel. Dédé Fortin himself created and produced all other albums with Jimmy Bourgoing as assistant director. Dédé also directed all Colocs videos, with the exception of "Julie", which was co-directed by Pierre Lanthier. About la p'tite Julie some people say that André's niece was the inspiration behind "Julie," but it was actually a young woman he met one night at a show at the Spectrum…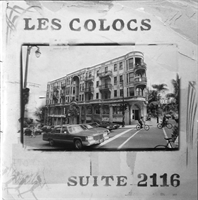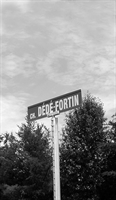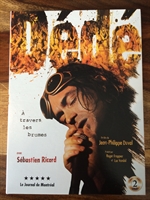 Following his untimely death, Fortin was the subject of many tributes from Quebec's arts scene and fellow Colocs members, including the posthumous album Suite 2116 (2001) and the biopic Dédé, à travers les brumes (2009). In January 2006, the village of Saint-Thomas-Didyme renamed the street where the artist was born "chemin Dédé-Fortin."
---
LES COLOCS
Founded in Montreal in 1990, Les Colocs had a profound impact on the 1990s music scene in Quebec. The group is recognized today for its ability to blend different musical genres, its onstage dynamism and the charismatic presence of its leader and singer, André "Dédé" Fortin.
After several chance encounters, André Fortin gathered musicians one by one and founded the group in 1990. Over the next few years, Les Colocs regularly performed in bars and clubs across Quebec. In 1993 they landed a contract and recorded their first album, Les Colocs, which was met with phenomenal success around the province.
Les Colocs:
André Fortin
Mike Sawatzky
Jimmy Bourgoing
Serge Robert
Patrick Esposito di Napoli
Second lineup:
André Fortin
André Vanderbiest
Mike Sawatzky
Guest musicians:
Marc Déry
Mara Tremblay
La Famille Botte
El Hadji Diouf
Karim Diouf
Justin Allard
Ben Piché
Ben Gagné
Tour Assistants:
Jean-Sébastien Robillard
and Carlos Camatcho
Main sound technicians:
Sylvain Brisebois
and Peter Mc Goldrick
Lighting:
Nancy Drolet, Michel Vézina, Stéphane Richard and
Gislain Petit
Tour manager: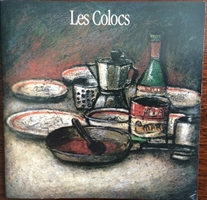 1993 Les Colocs
Gold and platinum album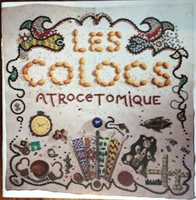 1995 Atrocetomique
Gold and platinum album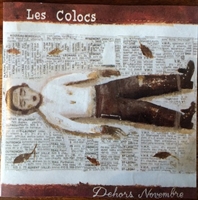 1998 Dehors novembre
Gold and platinum album
AWARDS AND DISTINCTIONS FOR LES COLOCS
1993 - Félix for group of the year and best new artist
1993 - Félix for best video and video director of the year ("Julie")
1994 - Félix for group of the year
1995 - Félix for best video and video director of the year
1998 - Félix for rock album of the year (Dehors novembre)
1999 - Félix for group of the year
1998 - Miroir Award (Festival d'été de Québec)
1999 - Miroir Award (Festival d'été de Québec)
---
Edifice Godin, birthplace of Les Colocs
It was here in the early 1990s on the 3rd floor of the Edifice Godin, squarely on the corner of Sherbrooke and St. Laurent streets, that Les Colocs was born. In 2015, during the building's centennial celebrations, former group member Jimmy Bourgoing disclosed to HOTEL10 administration that it all began within these walls. As tribute to the work of Dédé Fortin and to the mission of the foundation bearing his name, HOTEL10 opened up Suite 2116 to the public. HOTEL10 will donate 10% of each night's stay to the Dédé Fortin Foundation in support of suicide prevention.
---
DÉDÉ'S COLOCS... FOR LIFE!
On May 8, 2000, André "Dédé" Fortin took his own life. To transform the tragic event into a constructive project and to continue the work of the beloved Quebec artist, his family created the Dédé Fortin Foundation in his honour.
Fortin's death signalled the end of Les Colocs, now one of the most celebrated bands in Quebec's history.
The Dédé Fortin Foundation organizes activities all year to raise money for projects focused on suicide prevention, including C'TANNÉE, ON FAIT L'TOUR!, a 10-day walk around Lac-Saint-Jean.
HOTEL10 will donate 10% of each night's stay in Suite 2116 – Chez Dédé to the Dédé Fortin Foundation in support of suicide prevention.
"After André left, it was as if, one day, the moon never again lit up the night sky. A crucial part of our lives had disappeared.
With the passing of time, we've taken the time to look back. Through his work, life and heart, which we know so well, his light shines through."
– The Fortin Family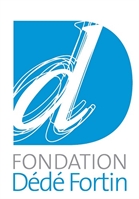 ---
THE ARTISTS IN SUITE 2116
Franco-Ontarian-turned-Montrealer, Marc Sirus is a multidisciplinary artist specializing in graphic design, illustration, lettering, painting and wall art. His colourful pop-art-inspired style helps create narrative works that are refreshingly unique. Marc Sirus dressed the door of suite 2116 – Chez Dédé.
Using collage and stencil techniques, artist Mateo calls into question how we see the world. His humanistic approach showcases a childhood nostalgia and a romanticism that is nearly absent from contemporary life. His raw materials are the forgotten images, photographs and travel documents collected in the search for timeless knowledge; his is a personal composition, a monologue of the soul. Mateo created the mural that decorates the interior of Suite 2116 – Chez Dédé.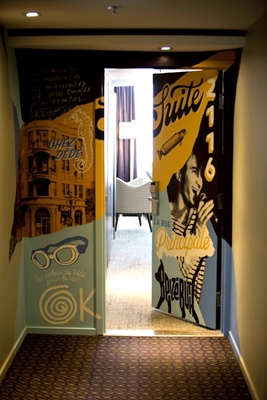 MARC SIRIUS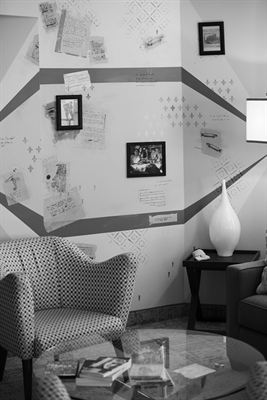 MATEO
---
AND THERE WAS LIGHT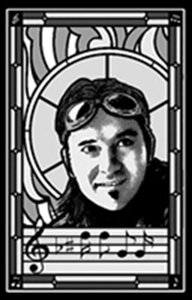 André "Dédé" Fortin, founder and leader of Les Colocs.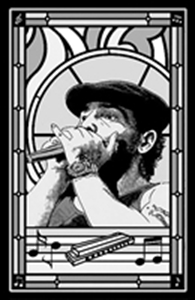 Patrick Esposito di Napoli, harmonicist for Les Colocs (1990 -1994).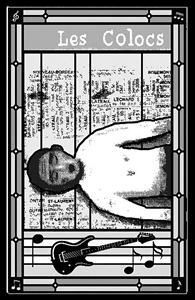 Released in May 1998, Dehors novembre is the beloved Quebec group's third album.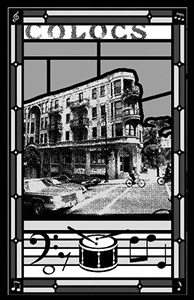 The Édifice Godin was the birthplace of the group that breathed new life into Quebec music.
The Colocs-inspired stained glass windows in the historic staircase leading to Suite 2116 were created in collaboration with the Station 16 gallery under the artistic direction of LNDMRK productions.