SUITE10
Total of 800 square feet
Large cloakroom
Two lounge areas for up to 36 people
Two 55-inch LCD TV's & one 75-inch LCD TV
Open-concept kitchenette with island that can seat up to 12 guests
Refrigerator, Nespresso coffee machine, microwave oven
Modern and luxurious bathroom with glass shower
Bedroom with king-size bed
Wireless High-Speed Internet Access
For reservations please contact us toll free at 1-855-369-6787.
14th Edition 2021: Grand Prix du Design Gold Award in Interior Design for Hotel, Restaurant and Bar. Category Boutique Hotels.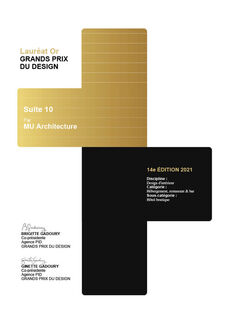 SPORTS OR MILESTONE EVENTS
SUITE10 is the ideal place to hold a gathering to watch events like the Grey Cup, the Superbowl, hockey games, or any sporting event that adds thrill when watched on a 75 inch screen with friends. Beyond sports, why not enjoy this sumptuous decor to celebrate a milestone event such as a birthday, bachelor/bachelorette party, or a retirement party? The professional staff of the hotel will ensure that SUITE10 will offer the most festive and convivial atmosphere, paired with excellent food and beverage menus.